Intelligent Document Processing for Banks
There's no question that the world is digitising. Consumers are constantly expecting more convenience, simplified technology, and fewer hoops to jump through to reach their goal faster. For example, with online banking, clients want to be consulted and have interactions at the time, location, and platform of their preferred choice. Banks must now embrace these new expectations and undergo digital transformations.

Many banks have begun to turn to (Intelligent Document Processing) IDP to digitise, classify, and extract data from all of their documents. Banks predominantly handle PDFs, scans, and emails that often need specific snippets of data being extracted. The result of using an AI solution like IDP is that it ultimately processes documents within a fraction of the time it would take a human.
What is IDP?
Intelligent document processing (IDP) is a technology that captures information from documents and processes it using artificial intelligence and machine learning.
Compared to traditional standalone OCR solutions, IDP uses AI, combining robotic process automation (RPA) together with OCR. As the system receives larger volumes of data, it learns and improves and requires less intervention from employees.
How does the Banking Industry use IDP?
With end-to-end document processing automation, banks can more easily stay on track with business objectives, such as improving the efficiency and overall happiness of back-office workers who handle data on a daily basis.
Where does the Banking Industry use IDP?
Bank Form Processing
Mortgage Document Processing
Credit Application Processing
Bank Forms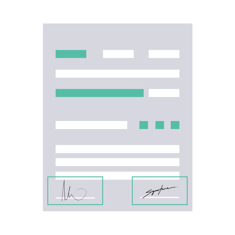 COVID-19 has meant that banks have seen surging volumes of retirement account withdrawals, loan applications, etc. Unfortunately, many of these bank processes still use paper-based bank forms, which are slow, error-prone, and require more human effort to operate. Since the home office is more abundant now than ever, this can cause issues of incorrect data entries and missing deadlines. Unfortunately, manually processing forms can't keep up with unexpected peaks. Moreover, slow processing times can be devastating for individuals and small businesses who have been hit hard by the COVID crisis.
Solution:
Thankfully, IDP can transform bank forms into digitally accessible documents in just a few seconds - giving bank employees more time to focus their attention elsewhere. Now, while PDFs and scanned documents are also technically "digitally accessible documents", IDP transforms all of the data, whether it's pure text form or inside tables/graphs, into machine-readable data.
Mortgage Document Processing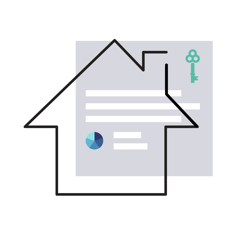 The mortgage process differs depending on whether it is private (e.g., a family buying a home) or corporate (e.g., a business needing a substantial loan to open a new branch). Here are common types of documents needed for both types of personas:
Private
Tax Returns

Salary Slips

Desired Purchase Documentation

Bank Statements (indicating one's spending habits)

Photographic ID

Inheritance Verification
Corporate
Income Statement

Balance Sheet

Cashflow Statement
These documents combined, result in a hot mess of data that needs to be searched for, extracted, and verified – taking weeks of manual labour with no guarantee of zero errors.
Furthermore, there can be times when a single document is opened several times by different employees looking for different information. Sounds confusing, right? It can be even more confusing for each of the employees that are trying to utilise the document at once. But this can only be a seamless process if the document is digitised and located correctly.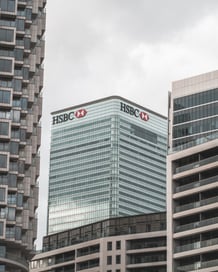 On average, there are 20-30 data points per document throughout the mortgage process – but even modern DMS (document management systems) struggle to manage all of them promptly. That is why an AI-based tool can assist banks in significantly speeding up this entire process.
Solution:
Using an IDP system can help seamlessly pull data from these forms (and supporting documents) and update the core systems and databases by using IDP to initiate further processing.
Credit Application Processing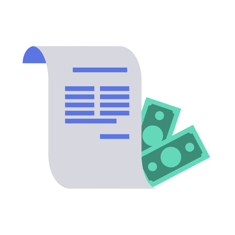 Similar to the mortgage process, generic credit/finance processing requires intensive and prolonged document data extraction.
Example:
If a bank employee is processing a credit request and enters the client's income as CHF300'000 per annum instead of CHF30'000, the client would be entitled to more credit than they can pay back – resulting in huge, and long-term, costs for the client and could potentially put the bank's reputation at risk.
Solution:
Auto-processing application forms using IDP increase the accuracy of the data output and fast track the instrument processing.
Final thought
The automation of manual banking forms around loan origination, credit applications, bank account opening, and other requests improves data input/output accuracy and enhances customer experience. IDP ultimately reduces costs around data handling and gives employees that extra boost, helping them reach targets and decrease errors.
From the perspective of the banking/finance industry, a future with IDP is certainly a significantly less stressful one.
Learn more about how IDP helps financial businesses by contacting us today.